Forced Matrix MLM Software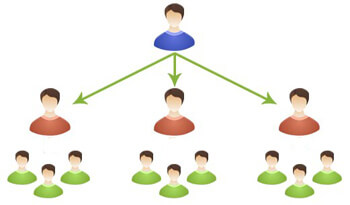 The Forced Matrix is named because of its confined structure. Its key features are limited width and limited depth. Commission is paid on a level by level basis; by a percentage of sale price paid as each sale is made. Some time ago only paid members and affiliates where placed on the forced matrix, but our system can rollup free members (non paid members) commissions to paid all the configured and qualified levels.

An affiliate will earn commissions based on his active membership, for example a silver member can earn 10 levels and a diamond member can earn 20 levels. The configuration is very flexible and can setup unlimited amount of membership types.

We also help our customers to do matrix compression, this will require a manual work on very large matrices, we can teach your IT worker on how to process it, or you can hire us from time to time to achieve this job. The compression means to take out free or abandoned members from the matrix to make it more healthy, our compression method roll up active members to the immediate and available upline. This is recommened if your member database have 100,000 or more affiliates, we had clients with over 500 000 members on the matrix without problems on strong server with 16 cores,32GB of ram, SSD disks.
1. Unlimited user management

2. Unlimited memberships

3. Digital products manager

4. Complete member management

5. Responsive members backoffice

6. Responsive admin panel

7. Dashboard statistics

8. Automated payment processing

9. Transactions/Financial manager

10. Payza, Okpay, Perfect Money and Solid Trust Pay available

11. Private messaging system

12. Mass message direct referred members

13. Banners plugin included with Ad credit currency

14. Banner approval system

15. Banner statistics for advertisers

16. Pay it forward (PIF) system, enroller can pay referrer membership

17. Deposit Wallet and Payout Wallet

18. Withdrawal to payment processor

19. Mass mailing to specific memberships

20. Frequently Asked Questions manager

21. News / Announcement manager

22. Promotional tools for members

23. Downline/Genealogy navigation available

24. Automated email system including email template editor

25. Cache system and Mysql database optimization tool

25. Direct Referral Commissions
1. Any width x Any depth available (2x21, 2x15,3x10, etc)

2. Unlimited members in the forced matrix, tested with over 5 million members.

3. Matrix view with downline navigation

4. Matrix filled from left to right

5. Spillover possible

6. Qualification available to start earning money from the matrix, like 2,3,4,etc personal referrals

7. Personal Volume (from own membership and direct referrals) available for bonuses.
Forced Matrix Edition Price
Forced Matrix Edition Demo